Zoom Troubleshooting Tips
Common Zoom Issues
If you do not see your issue listed below or need help from a live person, then connect via Zoom or Google Hangouts using the Virtual Frontdesk Help steps listed below.
Virtual Frontdesk Help
Having trouble connecting to a workshop via Zoom?
Alumni or non-UCB Zoom Login Problems
If you have Alumni status or if you are not affiliated with the UC Berkeley campus, then you will not be able to connect using Berkeley SSO login.
Instead, first log out of your Zoom account and then log into Zoom using your personal email account, either through Google or Facebook login (the two buttons in the screenshot below) or you can Sign-up on Zoom using an email address and password.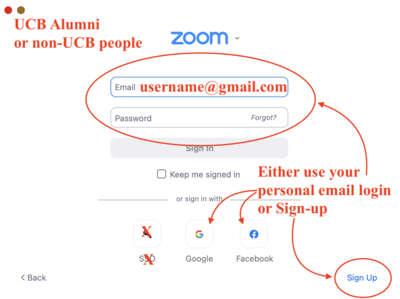 Login error with Berkeley SSO (Single-Sign On)
If you have a current, active UC Berkeley CalNet login and @berkeley.edu email address, following the instructions provided by campus here: https://ucb.service-now.com/kb_view.do?sysparm_article=KBT0012791